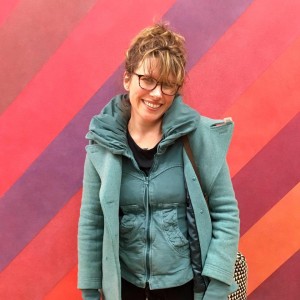 I'm a writer, editor, content strategist, speaker, teacher, yoga person, and mama. My articles, essays, and posts have appeared in The New York Times, Newsweek, CSNBC.com, CNN.com, The Huffington Post, Yoga Journal, Kripalu Center for Yoga & Health's publications, Women's Health, Natural Health, Beliefnet, Vegetarian Times,  and more.
I keep a gratitude blog, wrote Yoga Journal's NYC blog, Samadhi and the City, and co-wrote Beliefnet's popular Fresh Living blog. Until recently I was the Managing Editor of Mom365.com.
As a digital space pro, I was Holistic Living & Blogs Editor at Beliefnet.com; our team won several Webby Awards and a National Magazine Award.
I edit content sites and do things like boost traffic; optimize blogs, galleries, articles, and videos for SEO; and engage audiences through various social channels. In print-land, I was Editor-in-Chief of Mom365 magazine (a no-longer-with-us) quarterly publication for brand-new moms and was founding Articles Editor at Breathe, a (gone-the-way-of-the-printosaurs) yoga-inspired lifestyle magazine. And before that I was Editor of Mauiana Magazine in, yep, Maui, Hawaii, where I learned how to do everything from edit horoscopes to design ads for psychics and was partially paid in colonics.
As for the "speaker" part of my bio, I've given talks for the Times Square Alliance's Yoga in Times Square event; was the keynote speaker for the Berkshire Visitors Bureau's annual conference; and share my hard-earned wisdom in vlogs on yoga, health, and overall wellness. TV-wise, I've been featured on ABC's "Nightline," talking to Cynthia McFadden about an essay I wrote on The Secret; on a live Fox News show discussing the spiritual implications of 2012; and on local Fox affiliate, My9,  multiple times to offer health and wellness advice.
I've interviewed a whole lot of celebrities—from Richard Gere to Lou Reed to Ellen Burstyn—about their spiritual lives. Plus, I've grilled most of the biggie holistic spiritual teachers, including Ram Dass, Deepak Chopra, Marianne Williamson, Caroline Myss, Krishna Das, and others. My interview with Alice Walker is included in the anthology Circling Faith: Southern Women on Spirituality, and my sit-down with Paulo Coelho, author of The Alchemist, was republished in his novel The Witch of Portobello. 
A native New Yorker, I hold an M.S. from Columbia University's Graduate School of Journalism and a B.A. from Beloit College—plus, I'm a certified Kripalu yoga instructor. A practitioner of yoga for nearly 20 years, I'm also working on a memoir about yoga, cancer, and where Western and alternative healing modalities meet.
As a cancer survivor (11 years clear, baby!), I'm interested in offering others in our tribe hope, as well as supporting those who work to expose and eliminate cancer's many causes.
I recently relocated with my family from Brooklyn to Western Massachusetts. I'm adjusting to life without bodegas, subways, and a perpetual energy buzz. So far, it's good.
Give a holler: valerie AT valeriereiss.com.